Nick Balgowan presents Australian radar detector and laser jammer news.
Does an imposed speed limit really work?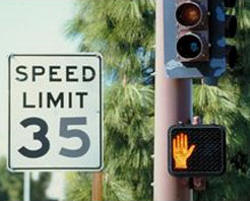 Speeding is a major cause behind many fatal accidents, so it must also be true that mandating lower speed limits will make us all safer, right? Like how after marijuana was made illegal, you could hardly find anybody smoking the stuff.
It was back in 1974 that the federal government passed the National Maximum Speed Limit Law in the USA, slowing America down to a creeping 55 miles per hour. The main reason behind the law was to lower gas consumption, but President Nixon promised us it would make our streets safer as well.
Partially thanks to anti-speed limit activists like Sammy Hagar, in 1995 it was repealed. But not everyone was happy about that. Some states and many cities still have their highway speed limits set at or near the '74 lows, and a lot of people support bringing the '74 law back into effect before every man, woman and child in the country finds themselves living in the horrifying universe of 2 Fast 2 Furious.




But There's a Problem...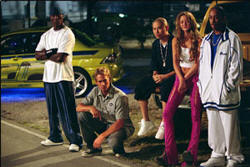 After the National speed limit was repealed, the state of Montana removed all non-urban speed limits in their state. A few years later, engineers working with the state decided to venture out to see just what kind of post-apocalyptic Death Race wasteland their lawless state had produced. What they found was that, you guessed it, on the roads where they removed the speed limits, fatalities didn't go up at all.
Proponents of the national law still argue that traffic fatalities nationwide did drop during the national speed limit's lifetime. Buzz-killing critics of the law point out that no, no they didn't.






Why Doesn't it Work?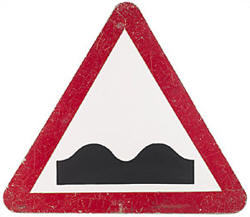 Because, and this surprised the hell out of us, people aren't completely retarded. As it turns out, people tend to drive at speeds they feel comfortable driving. Yes, there are reckless madmen out there, but they're not going to obey a couple of digits on a sign anyway. It just becomes a make-work project for traffic cops.
By the way, even worse than speed limits are speed bumps, the irritating, jarring humps they put in parking lots and such, intended to physically force drivers to slow down and make their CD players skip. Not only do those things not prevent accidents, but they keep ambulances from getting to emergencies, which is exactly the sort of thing you don't want happening when years of bacon sundaes and cookie-dough sandwiches finally catch up with you.
The above link references a study in Boulder, Colorado that found speed bumps kill as many as 85 people for every one life they save. Holy shit! We think landmines have a better ratio.
Motorvation People's Choice Award Sponsors

Radars.com.au proudly sponsored the People's Choice Awards, with 850+ competition entrants this year, Motorvation 2008 was huge. Once again, we were the only exhibitor of radar detectors attending major car shows and trade exhibitions.
Autosalon Exhibition, Perth Convention Centre
Autosalon was a very successful show for us and a perfect opportunity to showcase the new high performance radar detectors from Whistler. We were the only full time radar detector supplier present at the exhibition. Strangely no other "largest supplier" was seen of. It was fantastic to hear feedback from existing customers and also to hear from people who recently purchased other products that have not performed as advertised, many of whom are now happy Whistler owners. We would like to thank Lloyd from Autosalon for our pole position immediately inside the front door and adjacent to the Alpine centre point display. We had 3 staff members in attendance at the show. Click on a link below to view the larger image. Look out for our stand at other exhibitions this year where we plan to introduce more exciting and innovative products.
Tradesman Show, Burswood Exhibition Centre
One of our dealers, Geodetic attended this trade show and heavily promoted the Whistler Brand of radar detectors. Thanks to Clayton for his special effort.
The West Newspaper, July 2, 2005.
Radar Detectors making our roads safer (Nick Balgowan.)



Contrary to what many people believe radar detectors are actually legal in Western Australia. In fact, Western Australia is the only state in Australia where they (Radar Detectors) are legal and research showing that radar detector users have 24 per cent fewer accidents than non-users (United Kingdom MORI report.) Nick Balgowan from www.radars.com.au warns buyers should choose carefully as not all radar detectors on the market are suitable for use in Western Australia. "Some radar detector suppliers do not offer any warranty or support, do not allow refunds, do not include GST in the pricing and do not provide a detection guarantee," he said. "Unfortunately, once a buyer purchases one of these unsuitable radar detector products they are stuck with it. For this reason it is so important to know what conditions radar detectors must meet." A similar situation exists for older detectors that can no longer be used reliably as they do not detect the current sped cameras used in Western Australia. In response to the rise in unsuitable radar detectors on the market www.radars.com.au has product a comprehensive DVD demonstrating the incompatibilities of cheaper and older radar detectors. The DVD also explains what requirements the radar detector must meet to be suitable for use in Western Australia. With the launch of this new product www.radars.com.au is offering their DVD for only $29.00 which includes a $20 discount on a future purchase. Operating since 1992~1998 Nick Balgowan's company stocks a variety of radar detectors to suit your needs and budget. His company also provides a full warranty and comprehensive support for your radar detector in Perth. www.radars.com.au proudly offers the world's best radar detectors as independently tested and awarded for 2004/05 giving the longest range and best protection available online  at www.radars.com.au or by calling 08-9370-4038.
The West Newspaper, August 13, 2005.
Radar Detectors are legal in WA (Nick Balgowan.)



Some people think Radar Detectors are just for people who want to speed, of course there is always a small majority who will abuse any system, but this could not be further from the truth. Independent research shows that Radar Detector users have 24% fewer accidents (United Kingdom MORI report) and are generally very conscientious drivers. Police in New Zealand, the UK and the USA actually support and promote the use of Radar Detectors for this reason. Radar Detectors incorporating the new Safety Warning System (SWS) are now available from www.radars.com.au and can alert you to emergency services vehicles, road hazards and other obstacles that use SWS. Trucks that have 100km speed limiting and cars with cruise control are often booked at 115km when the drivers obviously are not intending to speed. A Radar Detector is a valuable investment that can safe guards your license, particularly with more and more speed cameras being questionably placed. Even the most conservative, conscientious and safe driver may inadvertently exceed the speed limit simply due to a slope on the road. www.radars.com.au proudly offers the world's best radar detectors as independently tested and awarded for 2004/05 giving the longest range and best protection available online  at www.radars.com.au or by calling 08-9370-4038.

Are laser jammers legal?
Most probably "no," however it has not been proven in court yet. Are parking sensors that "interfere" with police laser equipment "legal?" This is entirely another question. Intentionally or apparently unintentionally obstructing police is still obstructing police. We have written confirmation from government departments advertising of this nature is a breach of the trade practices act. If you have purchased a "parking sensor / laser jammer" under the impression that it is "perfectly 100% legal to use" you are entitled to a full refund. Only an oxymoron would believe ignorance of the law is a defence - or in this case claiming ignorance in advance. Considering there has been ample advertising of this product being a police laser gun jammer (by the same person,) it would not take a magistrate long to determine 51% probable cause.
Default programming for Whistler PRO-78 and XTR-690 radar detectors
After extensive testing we have determined the optimal setting for Whistler radar detectors used in Australia. All Whistler radars supplied by TCG are pre-programmed for use in Australia and these settings are included on the warranty card included in each package.
What is the leading cause of sudden death in Australia?

WA Government Health Department statistics show the disproportionate emphasis placed on "speed kills" advertising. 19,019 killed by smoking, 2,831 from alcohol, 1,731 by road accidents, 863 by illegal drugs and 203 by murder. The simple fact of the matter is that tobacco sales are already very highly taxed - the government really does not care to stop people from smoking, only a small percentage of this tobacco revenue is spent on anti-smoking campaigns and education. The easiest way to further "tax" road users is speeding fines - specifically automated photo camera speeding fines. Some $2 million is collected DAILY by road traffic authorities in Australia. What percentage of this revenue is spent on road safety campaigns, improving our roads or even driver education and training? Not much. The real killers on our road are FATIGUE accounting for 30%+ of road fatalities, inexperience and specifically dangerous road conditions. The figure of 1,731 refers to ALL road fatalities. Does anybody else see the hypocrisy? Recent figures suggest that only 2% of road fatalities occur at speeds above the posted speed limits.... by Nick Balgowan.
Do governments really care to stamp out speeding, or do they really support it?
If governments really wanted to stop motorists speeding why would they create a budget that relies on speeding fine income?  Surely the aim would be to balance a budget WITHOUT significant income from speeding fines? Various reports have shown governments being "concerned" when speeding fine income decreases, shouldn't they be overjoyed? Think about it, why would governments want to cut out millions of dollars of "money for nothing it makes no sense.
What is the best radar detector for use in Australia?

That all depends on your requirements, budget and where you drive. One radar detector does NOT suit every user. Be very cautious about reading any review as it is fairly easy to see some are either sponsored or financed by an actual manufacturer or a distributor with a vested interested in promoting their own products. Naturally we are a Whistler distributor, but if you want to spend more on a different brand we will happily supply for you. But we believe Whistler provide high performance, reasonable pricing and the best warranty in the industry (unmatched in fact!) Sure, you could spend double the amount for some minor or questionable performance gains but spending $800-$1000 for a product with only a 12 month warranty or no local distributor support does not necessarily provide the "best deal" available on a radar detector in Australia. We encourage you to shop around and then compare prices and backup support. We provide the largest range, best prices and the simple facts relating to each radar detector or laser jammer available. If we don't stock it, we don't recommend it.
REAR FACING POLISCAN SPEED CAMERAS
We are aware, and so are many motorists, that the Poliscan Speed camera is capable of capturing images in both directions using digital photo technology and laser speed detection capability across multiple lanes in both directions. Rear facing speed camera activity was introduced with the superseded Multanova cameras. Please contact us if you would like to know more.