NEWS: Radar detectors, police speeding fine and laser jammer news 2009.
Motorists save $6m in parking fines
ninemsn 30/8/09
Motorists in NSW and Victoria have saved more than $6 million by appealing parking and speeding fines over the past year, Freedom of Information documents reveal.

In NSW, 13,974 clued-up drivers successfully appealed fines, avoiding payments totalling $4.7 million between 2007 and 2008, according to figures obtained by consumer advocate Choice.

It showed almost a third of all drivers who argued their case were proven correct.

And the strike rate was even better in Victoria, where 45 per cent of motorists appealing against parking infringements were successful.

They saved at least $1.7 million by correctly blaming faulty parking meters, hard-to-read or missing signposts as well as other blatant errors made by ticket inspectors.

It was a clear sign drivers should not have to cop incorrect or unfair fines, Choice spokesman Christopher Zinn said.

"Choice in no way condones speeding or illegal parking but there are inevitably cases in which an automatic fine or conviction without reviewing the full circumstances may be patently unfair," he said.

"There are systems of appeal and, as with any other dispute resolution system, it pays for consumers to understand them and how they work."

Only 10 per cent of parking fines in Victoria or 166,817 were appealed in the financial year ending June 2008.

But as a result 59,539 fines were withdrawn, while a further 17,543 were replaced with a warning.

It proved persistence sometimes pays off, Mr Zinn said.

In 2007/2008, NSW motorists saved $3.21 million in parking fines after 23,816 out of 81,326 cases were successfully appealed.

Contesting speeding fines also produced savings, preventing 11,658 drivers from forking out $1.53 million, out of a possible 43,805 cases.

It was important all drivers were aware of their rights in fighting unfair fines, given the avenues of appeal differ from state to state, Mr Zinn said.

For example, you can appeal speed camera fines in NSW if you have a good driving record over the past decade, whereas Vicroads only look at the past two years.

On the flip side, Adelaide doesn't consider driving records at all.

Mr Zinn urged all motorists to take a closer look at their relevant appeal systems.


Daily Telegraph 12-Aug-2009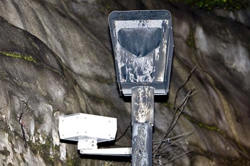 It appears as though a few disgruntled motorists are serving their own kind of vigilanty justice in North Sydney by torching yet another speed camera earlier today.

The city-bound fixed speed camera halfway up Spit Hill was deliberately set alight at around 2am this morning, wiping out one of the city's most notorious revenue-raising cameras.
Police attended the scene, taking photos and collecting evidence although with NSW officers still adopting a 'fine-free' stance in response to union action, it is unlikely that finding the culprits will be a high priority.

The controversial Spit Rd camera was ranked among the top 10 highest revenue raisers for the state in 2006-07, earning more than $1 million that year.

Since the start of June, two speed cameras outside Narrabeen North Public School and Narrabeen Sports High were set alight, along with the north-bound camera on Pittwater Rd outside Narrabeen Lakes Public School in July.

The most recent attack prior to today's Spit Hill blaze was on a fixed camera on Warringah Rd at Forestville which was set on fire a fortnight ago.

It has been estimated the damage bill for each of the four previous attacks would run between $15,000-$35,000 per camera.

Speed camera operators pelted with rocks
NineMSN 15-7-09
Road signs showing the location of speed cameras in South Australia are being removed because their operators have been pelted with rocks.

Police said the signs would be taken away and protective film placed over the windows of vehicles used by the camera operators.

Members of the Public Service Association (PSA), the operators took industrial action after rocks as big as bricks were thrown through their car windows.

PSA members voted on Tuesday to no longer display the speed camera signs on the side of the road, which they believe made them an obvious target.

The association said complaints of persistent verbal abuse and vehicle damage had not been taken seriously by police.

But the industrial action resulted in SA Police agreeing to address the safety concerns of the operators - except for a request that they work in pairs.

"We have advised them that due to concerns ... police have removed the requirement to place the 'Safety Cameras Save Lives' sign," SA Police Assistant Commissioner Bronwyn Killmier said in a statement on Wednesday.

"Work bans have been lifted and operators are working as normal."


Photo enforcement blamed and banned
Wheels Magazine. Peter McKay | June 23, 2009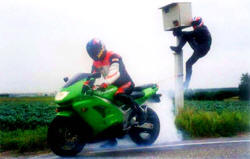 As evidence mounts that photo enforcement is a flawed concept, Maine has become the 14th state in the United States to ban the use of red light cameras and speed cameras. Our roving news hound Peter McKay reports from the United States.

The state of Maine is set to follow 13 other US states to enforce a total ban on speed cameras and red-light intersection cameras and automated ticketing.

Signed into law is a bill prohibiting the use of a "traffic surveillance camera to prove or enforce a violation" of traffic laws.

"While on the surface these cameras may appear to increase public safety, recent studies have shown that they actually increase the occurrences of accidents at intersections where the public is aware that there is a camera," State representative Rich Cebra said in a statement.

"The placement of these cameras is also a civil rights issue, creating the issuing of a summons and possible fines and jail time to the owner of a vehicle and not necessarily the actual driver of the vehicle. In many places around the country, these cameras have become nothing more than a money-maker for municipalities."

Other US states to have banned traffic surveillance cameras to prove violations are Alaska , Arkansas , Indiana , Michigan , Minnesota , Mississippi , Montana , Nebraska , Nevada , New Hampshire , Utah , West Virginia , and Wisconsin .

While revenue-addicted governments and headline-seeking road safety experts slurping from the trough filled by government agencies such as the NSW Roads and Traffic Authority are always banging on that cameras save lives, many are starting to seriously question photo enforcement on roads.

The old argument start to falter when evidence is provided by independent researchers who don't have to read from the same songbook as those providing the funding for some of the self-proclaimed road safety "experts".

Among the doubters of camera surveillance is the independent National Motorists Association of Australia (NMAA), a group that has access to independent studies from around the world.

Scottsdale in Arizona has conducted a preliminary examination into its freeway camera program, finding a remarkable 54 per cent increase in rear end collisions accompanied the 110,962 automated tickets issued in 2006.

These crashes typically happened when motorists approaching the cameras panicked and braked suddenly to avoid receiving a bluey. They were then struck from behind by vehicles driven by motorists who failed to react in time to the unexpected braking ahead

Recently a woman locked in the back of an Arizona Department of Public Safety (DPS) police vehicle burned to death as a result of a rear- end collision on Interstate 10 near Tucson , Arizona .

At local school zones, motorists are expected to slow to 40km/h between 8-9.30am and 2.30-4pm. How many times do you see drivers brake suddenly even outside these times? And how many times in the few hundred metres of the school zone do you take your eyes off the road to check your speed?

It's a flawed system that cries out for independent studies to check whether they have actually saved lives. Still, we know they have made lots of money for state governments…

Red-light cameras are certainly a deterrent for those impatient motoring maddies who are prone to charging through intersections when the traffic signals are either yellow or even a crimson shade.

While studies show that overall crash numbers can increase when red-light cameras are on duty, defenders of intersection cameras counter that the type of shunts caused by red light cameras are not a cause for alarm.

They'll concede there could be more rear enders but that, typically, they are not life threatening.

T-bone prangs, those seen when someone runs a red, are infinitely more dangerous, we are assured, so red-light cameras are a safety asset.

Yes, but not always.

In Victorville , California , recently (and reported by the Victorville Daily Press), a driver keen to avoid a big-buck ticket slammed on the brakes during a yellow light. Phew! He just stopped in time. And so did the dude immediately behind. The third vehicle in line, a people mover driven by a woman did not stop in time. Her vehicle belted the second vehicle into the first. But worse, she suffered serious injuries.

Video evidence of a bad outcome when motorists react to speed cameras by braking can be seen on the BBC news video below....




But commonsense doesn't always prevail. Greed is still good in some places. Red light cameras have been revived in Northern Virginia where the city of Alexandria has announced that a private company has re-installed cameras at three intersections effective from July 15.

Alexandria had kept quiet about the resumption as it attempted to avoid a repeat of the negative discussion about cameras that triggered the clamour to shut down the program four years ago.

A report from the Virginia Department of Transportation revealed that crashes increased 43 percent at the Alexandria intersections where red light traffic monitoring was in place. In the state's five biggest metro areas using cameras, injury crashes rose 18 percent.

Studies by the Texas Transportation Institute show increasing the yellow light period by a few tenths of a second reduces infringements by more than 50 per cent with a reduction in crashes of 40 per cent. It also eliminates the panic braking causing the large increase in rear-end bingles at red-light camera intersections.


Road carnage dismays NSW top traffic cop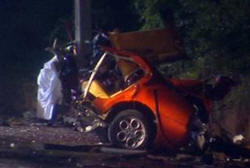 NSW's top traffic cop is appalled at six road deaths in a few hours on the state's roads, saying the toll's "beyond comprehension".

The deaths in five separate accidents on Thursday take NSW's road toll for 2009 to 157 - 39 more than at the same time last year.

Traffic Services Commander, Assistant Commissioner John Hartley, said the fatalities proved motorists were ignoring road safety warnings.

"Six people killed in a single day on NSW roads is a tragedy," Mr Hartley said.

"It is beyond comprehension that despite all the warnings about speeding, drink driving and not wearing seatbelts, people continue to risk their lives by driving with a blatant disregard for the road rules."

The carnage began about 3.20pm (AEST) when a 63-year-old Banora Point woman died in a two-car collision at Tweed Heads South, in northern NSW.

Just an hour later, a 40-year-old man and his 17-year-old male passenger died when their car hit a tree beside the Sturt Highway at Narrandera, in the state's south.

A 31-year-old male pedestrian died in Sydney about 7pm after being struck by a utility at the intersection of Liverpool Road and Gower Street at Ashfield.

An 18-year-old female pedestrian died after she was hit by two cars about 10.40pm on Main Road, Shortland, near Newcastle.

And 10 minutes later, a 40-year-old man died when his ute and a hour-wheel drive collided on Tweed Coast Road at Cudgen, near Tweed Heads.
ED: No specific mention to the cause of any accident, however, inattention, road maintenance, fatigue, alcohol and driver training are most likely the main culprits.
Source: NineMSN 1 May 2009
Where is my Spy Camera?
A blue VW Transporter van fitted with a single, external, tripod mounted camera capable of scanning up to 700 number plates an hour was trialled yesterday in Moorabbin, Victoria, as police attempt to catch disqualified drivers.
The trial, which police say is still in its infancy, has already proved the automated number plate recognition technology works and that it could substantially increase the likelihood of catching disqualified or suspended drivers, or simply those that have unpaid registration or fines.
Superintendent Kevin Casey said police figures showed that disqualified drivers were involved in 10 per cent of all fatal road crashes and that recent research showed disqualified drivers were up to nine times more likely to be involved in a crash than other motorists.
Further to this, a report released yesterday by the Sentencing Advisory Council proved many motorists caught driving while disqualified or suspended had also committed other offences.
Source: Car Advice 1 May 2009.

Fixed cameras help boost government revenue from speeding
QLD Courier Mail April 22, 2009
SPEEDING drivers generated $268,681 a day in revenue for the Queensland Government last year - and the amount is expected to rise further this year.
Figures obtained by The Courier-Mail show the introduction of three fixed speed cameras contributed to a big jump in speeding infringement notices issued state-wide.
The State Government stands to pocket $98 million from the 663,020 speeding fines issued last year - a 35 per cent increase on the previous year's 490,562 notices.
Almost 10 per cent of last year's speeding offences were recorded by the fixed cameras at Burpengary, Kangaroo Point and Tarragindi.
The Government plans to introduce a further six cameras this year; two on the Warrego Highway at Ipswich and Toowoomba, two on the Gold Coast and two on the Sunshine Coast.
Also, with traffic fines being increased by 33 per cent from January 1, the Government stands to receive more than $130 million from speeding fines this year if the same number of notices is issued.
The tripling of fixed cameras is expected to lift that figure but State Traffic Support Branch Superintendent Col Campbell rejects the revenue-raising tag.
"The true cost of the road toll in Queensland is far in excess of any penalties that are imposed on people who break the law," Supt Campbell said. "The overall social cost of a fatal traffic crash is in excess of $2.25 million."
He said that last year, a person was admitted to hospital as a result of a road crash every one and three quarter hours.
"We estimate the cost to the community of each of those hospitalisations is half a million dollars," he said.
The fixed cameras are in addition to mobile speed cameras used at 2400 approved sites throughout the state.
In 2008, the cameras were responsible for issuing more than half of all speeding tickets or 336,337, representing $49 million in revenue.
The bulk of those tickets was issued to drivers doing less than 13km/h over the limit, prompting the National Motorists' Association of Australia to question their value in terms of reducing road trauma.
"They're a revenue-raising substitute for real policing. A speed camera can't detect a drunk driver, they can't detect an unlicensed driver or a drug driver but a police officer can," NRMA's Michael Lane said.
He said infringement notices might have increased but there had been no reduction in the toll.


Mobile cameras grounded indefinitely

The Arizona Republic. Diana Balazs and Staci McCabe - Apr. 20, 2009
Mobile photo-enforcement activities throughout the Valley were suspended Monday in the wake of the killing of a photo-enforcement van operator in Phoenix.
Doug Georgianni, 51, was shot to death Sunday while deployed on Loop 101 near Seventh Avenue, police said.
The Scottsdale Police Department and its contractor, American Traffic Solutions, removed all mobile enforcement vehicles from service while the homicide investigation is under way, officials said. They also were removed in Mesa, Phoenix, Avondale and Tucson.
Redflex also pulled its photo-enforcement vans off the streets in Paradise Valley and nationwide. The company operates two vans for Paradise Valley, Police Chief John Bennett said.
Bennett called Sunday night's shooting a tragedy.
Bennett noted that violence aimed at radar operations is a phenomenon that police are increasingly familiar with. Several motorists have been arrested in the town for taking their wrath out on the photo-enforcement vans and operators.
"We have had a couple of problems like that," Bennett said. "People who are flashed and become mad - they try to argue with the operator in there (the van) or they kick the van. We've had a few instances like that."
While police try to keep an eye out for the safety of van technicians, "The unfortunate thing is we cannot be there 24/7 with the van," Bennett said. "They (the operators) are out there and they are susceptible to these people that just get upset and want to do damage to it."
Scottsdale police and ATS are consulting other agencies that use photo enforcement and are considering additional protocols to help safeguard the photo-enforcement vehicle drivers.
The ATS photo enforcement vehicles will be redeployed in Scottsdale once the investigation of the killing progresses and Scottsdale police and ATS feel it appropriate to do so, police said.
Fixed photo enforcement locations in Scottsdale and Paradise Valley will remain in operation.
Police on Monday arrested Thomas Patrick Destories, 68, of Phoenix on suspicion of first-degree murder.

PAUL MURRAY - How would you cut the road toll?
A small story tucked away down the bottom of page 10 yesterday should give people cause to think about our road safety strategies in WA.

A police analysis of last year's road toll statistics showed that inattention rated nearly as highly as speed.

Of the 209 deaths on our roads last year, 36 were attributed to speed and 31 to inattention. But the overwhelming focus of our road safety strategy remains on speed and increasing the number of speed cameras.


These new statistics are quite remarkable because critics of the "speed kills" mantra have always claimed that there is a heavy skew towards speed and away from inattention in the way police record blame in fatal crashes.

So either police have changed their procedures – or we are becoming even more inattentive. Inattention also rated ahead of fatigue and reckless driving as a cause of death.

I've long believed that bad attitudes – which include inattention and carelessness – combined with poor driving skills are the biggest contributors to our road toll.

And before the moronic bleats of "if you don't speed, you don't get caught" start, this isn't about paying fines, but about the effectiveness of our road safety strategies.

Road researcher John Cadogan investigated road death statistics in NSW and found that 31 per cent of the drivers recorded as killed by speed were drink-driving. And 20 per cent were not wearing a seatbelt or helmet.

He questioned whether speed was the real cause of those recorded deaths.

Mr Cadogan maintains that our major problem is a minority of anti-social drivers who place themselves and others at jeopardy by their high-risk behaviour.

After a series of columns on road safety two years ago, a former top traffic cop wrote a letter saying that in 99 per cent of fatal accidents he investigated, inattention and carelessness were the major factors.

Frankly, I couldn't care less if the police festooned the roadsides in WA with fixed speed cameras as Assistant Commissioner Steve Brown wants to do.

I can't remember the last time I got a speed ticket and my only interest is that speed cameras appear fairly ineffective in reducing our road toll. We should not forget that it got down to 162 in 2005 and 164 in 2001.

However, the $21 million needed to put point-to-point cameras on our major freeways and regional roads would be better spent on increased traffic patrols and education.

Some 60 per cent of WA's fatalities are from single vehicle crashes on country roads with about 40 per cent of victims not wearing a seatbelt.

Those crashes are not about speed, but about vehicles that leave the road and hit something. Had they happened at 100kmh, the result would be the same.

A leading safety researcher told me years ago that the single thing that would have the most effect on the WA toll would be to remove trees close to the edge of country roads.

Point-to-point cameras won't change any of that.
Get serious, ban radar detectors: Road Safety Council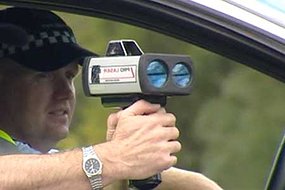 Grant Dorrington wants to ban motorists from having radar detectors. (ABC TV)

Related Story: Minister determined to make hoons pay The head of the Road Safety Council in Western Australia says if the government is serious about hoons and excessive speed, it should ban radar detectors in cars.

The Chairman of the Road Safety Council (RSC), Grant Dorrington, West Australian MPs should also reveal whether they use speed camera detectors in their cars.

Using detectors is not illegal in Western Australia, but the RSC says it sends the wrong message to drivers.

Mr Dorrington, says he knows of politicians who have used the devices.

"You've got to ask yourself, why do they buy it? They buy it so that they can speed and not get caught," he said.

"Well the fact they can speed and avoid the law you would start to think, well is that the right message in this debate?

Meanwhile, Mr Dorrington says he supports a proposal by the Minister for Police for automatic confiscation of vehicles after a third hoon offence.

He says he wants to eventually see a zero tolerance approach.

"Unfortunately they won't listen to common sense," he said.

"They don't listen to education, they don't read signs, they don't want to fit in with it, the only thing you can do is get tougher on your penalties."
NOTE Grant Dorrington's organisation derives it's income from speed camera revenue. The organisation produces its own statistics without any basis in real world facts.


Former judge Einfeld jailed over $77 speeding fine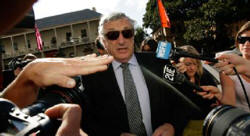 AAPT - Malcolm Knox. March 20, 2009
The former Federal Court judge Marcus Einfeld has been sentenced to at least two years in jail for lying to evade a speeding fine three years ago.

In a packed hearing room at the NSW Supreme Court, Justice Bruce James imposed a maximum three-year sentence on the 70-year-old.


His lawyer, Ian Barker QC, said Einfeld's tireless work for the disadvantaged and other mitigating factors justified the imposition of a non-custodial term.

But Wayne Roser, SC, for the crown argued Einfeld should be jailed full time, saying the counts were "in the worst case category'' of such offences.

Justice James said the retired judge engaged in "deliberate, premeditated perjury'' in order to avoid incurring demerit points on his driver's licence.

He also concluded Einfeld had engaged in "planned criminal activity'', detailing the numerous lies in his police statement when he asserted he was not driving his car when it was clocked going 10kmh over the speed limit in the Sydney suburb of Mosman.

Justice James set a non-parole period of two years.

After the sentence was imposed, well wishers went over to the dock where Einfeld embraced and kissed many of them.

At the suggestion of corrective services officers, he handed over his valuables, including his mobile phone.

'Oh, the bag is packed'

In reply to a comment from one supporter, Einfeld said, "Oh, the bag is packed,'' and he was then escorted out of the dock.

In January 2006, Mr Einfeld's car was caught by a speed camera clocking 60kmh in a 50kmh zone. Rather than accept the $77 fine at his court hearing in August 2006, Mr Einfeld said a friend of his, American college professor Teresa Brennan, had been driving the car.

It later emerged that Ms Brennan had died three years before the speeding offence took place.

Mr Einfeld continued to deny any wrongdoing until his hearing before Supreme Court justice Bruce James, when he pleaded guilty to both charges.Mr Einfeld's psychiatrist, Dr Jonathon Phillips, told the sentencing hearing that his patient had been treated for depression in 1996 and 2006, and had been diagnosed with prostate cancer.

An Aboriginal elder, Madeline McGrady, praised Mr Einfeld's work with indigenous communities when he was Human Rights Commissioner in the 1980s.

In a separate hearing, Ms Angela Liati was found guilty last month of making a false police statement by saying that she had been using Mr Einfeld's car at the time of the speeding offence. Ms Liati is currently on bail awaiting sentence.


3.7 million drivers will fail MOT under new test plans
UK NEWS 10 March 2009.

More than 3.7 million motorists could fail their MOT if the test is changed to stop Gatso-busting number plates.

The Department of Transport is hoping to clamp down on drivers who tamper with their plates in a bid to outfox speeds cameras. If the proposals are agreed more than 3.7 million vehicles could fail their MOT because of illegal number plates.

New research released today by Esure car insurance reveals that more than one in ten UK motorists (11%) have tampered with their vehicle licence plate or would consider doing so to avoid being caught by a speed camera.

The survey of 1,000 drivers also showed that one in 12 (8%) would consider using masking tape, mud or even reflective sprays to disguise their licence plate, preventing identification by Gatsos. Almost a third of motorists polled admitted that they are aware of the consequences of using illegal methods to cheat speed cameras.

More than a million drivers (4%) have personalised number plates that are intentionally difficult to read or have placed screws in non-standard positions on their registration plates to distort the numbers or letters.

Around 4% of motorists questioned confessed that they have, or would fit their car with, a device such as a laser jammer to prevent the number plate from being detected by traffic enforcement cameras. A further 2% admit that they have or would consider attaching a false number plate to their vehicle.

Mike Pickard, Head of Risk and Underwriting at Esure car insurance, said: 'Getting caught by a speed camera can be costly in terms of fines, penalty points and a subsequent rise in insurance premiums which could explain why some motorists are going to extraordinary lengths to avoid being detected by speed cameras... Cameras can save lives and increase road safety so any measures to improve their effectiveness and stop drivers flouting the law must be welcomed.'
Gold Coast speed camera racks up $12,000 an hour
Courier Mail. February 15, 2009 11:00pm

QUEENSLAND'S busiest speed camera is netting the State Government almost $12,000 an hour as motorists are slapped with a fine every 40 seconds.

The Courier-Mail can reveal the "rat run" on a Gold Coast street caught 90 motorists an hour last year – almost double the strike rate of the next busiest camera.

Queensland police figures showing the top 20 camera sites during 2007-08 also are set to reignite the debate over whether a proposal to advertise mobile camera locations should be implemented.

The camera in Wardoo St, Southport, was in use for only 43 hours and netted about $506,000, according to calculations based on average breaches before a 33 per cent hike in fines on January 1.

But well-known sites such as the state's most-used location, outside a KFC outlet on Kelvin Grove Rd, in Brisbane's inner north, collected only $418,000 over 670 hours.

Motorists were so aware of the virtually advertised camera it detected only four motorists an hour for $626 average revenue, a similar rate to the three fixed cameras.

Police Minister Judy Spence yesterday defended the Wardoo St jackpot, saying its selection was based on factors including crash data, complaints about speeding and police knowledge – as were all sites.

"Revenue raising is never a consideration when choosing sites," she said.

"This street is known as a 'rat run' by drivers on the Gold Coast and the large number of detections is a result of this traffic volume."

The figures show that the state's second-busiest camera, on the Pacific Motorway at Daisy Hill, caught drivers at a rate of 51 motorists an hour.

The Gateway Motorway, at Eagle Farm, notched 48 detections an hour.

RACQ spokesman Gary Fites yesterday said the Kelvin Grove Rd camera seemed "to be a pretty successful site in terms of modifying behaviour".

The State Government will commission another six fixed speed camera sites this year with initial reports suggesting two each on the Gold and Sunshine coasts, one in Toowoomba and one in Ipswich.
Red-lights snap for cash

THE list of Queensland's busiest red-light cameras gives an insight into how the State Government positions its limited number of cameras.

The traffic lights at the intersection of Ipswich Rd and Cornwall St, at Annerley on Brisbane's southside, had the highest rate of detections during 2007-08.

They recorded almost double the second-busiest site with 18.1 detections a day.

The Government has only 34 cameras to alternate between 136 camera box locations across the state. Motorists are normally unaware which red light cameras are in use.

Figures suggest the camera locations with the highest recordings are more likely to be used more often.

The second-busiest camera was located at the intersection of Lutwyche Rd and Bradshaw St, at Lutwyche, on the northside. It averaged 10.4 detections a day.

Police Minister Judy Spence yesterday attributed the high detection rate on Ipswich Rd to heavy traffic volume.

"A red-light camera will only be installed at an intersection that has a history of crashes directly related to drivers disobeying traffic signals," Ms Spence said. "There can be other physical aspects at an intersection where crashes occur that may mean a red light camera cannot be installed."

The limousine of Deputy Premier Paul Lucas was snapped at the Ipswich Rd intersection when he was transport minister.

His chauffeur paid the fine but Mr Lucas later admitted he may have been driving the vehicle at the time of the offence.

Police officer admits taking (steeling) radar detector
By DEBBIE BURT MYERS

Wednesday, February 04, 2009
A Philadelphia police officer was placed on administrative leave last week and resigned Tuesday after he admitted taking a radar detector from a vehicle he pulled over.

Patrolmen Johnnie T. Keyes was charged in an affidavit with taking a Cobra radar detector from the vehicle following a traffic stop on Valley View Drive on Monday, Jan. 26.

Keyes has not been arrested pending a hearing before a circuit judge to establish probable cause, said Police Chief Dickie Sistrunk.

The hearing is set for Friday at 9 a.m.

The driver of the vehicle was arrested on an outstanding warrant for simple assault and taken to jail by another officer while Keyes remained behind waiting for a wrecker, Sistrunk said.

The man realized that the radar detector was missing after he got out of jail and reported the theft to police, Sistrunk said.

The man talked with the wrecker driver and was told there was no radar detector inside when the vehicle was towed.

Sistrunk said police filed a report on the missing radar detector and in the mean time the man, Derrick Henley, signed an affidavit accusing another officer.

After an internal investigation, Keyes admitted to having the radar detector which police later retrieved at his residence, Sistrunk said.

"The law says you cannot arrest a police officer until he has had a hearing before a circuit court judge to establish probably cause," Sistrunk said.

Sistrunk was to bring the incident before the Mayor and Board of Aldermen at its regularly scheduled meeting Tuesday night.

David Brackett, the other officer involved in the traffic stop, was cleared of any wrongdoing.

Keyes was hired as a patrolman with the police department on April 16, 2008.

Sistrunk expressed concern about the officer's actions.

"People entrust my officers to serve and protect them," he said. "This shows that my officers are no better than anybody else. Our department will investigate and take corrective action which something like this occurs."

Another officer resigned last year after he admitted to shoplifting while on duty.

Sgt. Toby Wilson, 59, of 527 John C. Stennis Dr., Louisville, resigned last August after he was caught on surveillance tape taking a can of Pepsi from a convenience store without paying for it.

No charges were filed.

Last week, another officer was suspended for five days without pay for unauthorized use of a patrol car.
Police speed detectors 'give bogus readings'
04 February 2009 By Sam Reeves, Scotsman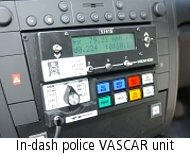 TRAFFIC police have been ordered to stop using speed-detection equipment over fears it could be affected by their cars' radio waves.
Road policing units across Scotland have been told to use alternatives to the Vascar system to check on motorists until further notice.

It is thought the police radio system – called Airwave – might be triggering faults in the speed detectors, which could open the way for thousands of motorists to try to overturn their convictions.

Vascar – Visual Average Speed Computer and Recorder – is operated manually by an officer. Two landmarks are selected, such as a lamppost and a sign, the distance between the two is calculated and the time it takes for a vehicle to travel between the sites is then measured.

The officer presses a button as the vehicle passes the first landmark, and again as it passes the second. The technique has been used for around 25 years.

Strathclyde Police confirmed its officers had been asked to use alternatives while the concerns are investigated.

Chief Inspector Andy Orr, of the force's road policing department, said: "There is a suggestion that the Vascar system might be affected by Airwave radio waves and the matter is currently being investigated by Strathclyde Police.

"Until such time that the matter has been fully investigated, a memo has been sent to officers asking them to use alternative speed-detection equipment."

The force stressed Vascar was not the main speed detector in use, and the main focus was on other systems such as speed cameras and radar guns.

The Association of Chief Police Officers in Scotland (Acpos) said all eight of the country's forces had been asked not to use Vascar, adding two other speed-detection systems also had a "potential issue".

Road traffic lawyer Graham Walker said last night: "Anyone who has been convicted using Vascar should contact a specialist solicitor and investigate the possibility of an appeal in connection with the case.

"And if their case is pending, then they should tender a not guilty plea and examine the reliability of the device. It is really important because people can lose their mortgage and their livelihood and all sorts of things over a speeding conviction."

Mr Walker, who works with roadtrafficlaw.com, said his firm would examine all Vascar cases dating back to 2005, when the Airwave radio system was rolled out across the UK.

An Acpos spokesman said: "Road policing units with all forces in Scotland have been advised of a potential issue with three speed-detection systems – Vascar, Police Pilot and Provida. They have been advised not to use them for speed detection until the issue is resolved but to continue employing other speed-detection systems."

Fines fraud hits Italian drivers

By Duncan Kennedy BBC News, Rome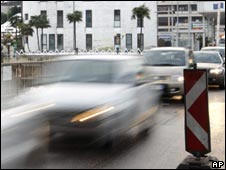 Drivers who made mistakes were caught on camera and fined. Thousands of drivers in Italy are expected to seek compensation after it was revealed that a system to catch them jumping red lights was rigged.

More than 100 people, including police officers, are being investigated as part of the fraud.

The T-Redspeed system - a revolutionary camera technology - has been in use for two years in 300 areas across Italy.

Cameras linked to traffic lights capture 3-d images of vehicles if they jump the lights or are speeding.

It can also detect offences like illegal u-turns.

It is believed more than a million drivers have been trapped by the system.

But it is now claimed the lights were rigged to change from yellow to red in three seconds instead of the regulation five or six seconds.

The fraud was uncovered by a senior police officer who noticed an unusually high number of fines being issued.

Instead of an average 15 fines a day in some places, the figure jumped to more than 1,000.

The fraud may have netted as much as $170m (£116.4m) for those involved.

The scheme's inventor is now under house arrest, though his lawyers say he is innocent.

More than 100 other people including 63 police commanders are also being investigated as part of the scam.
Angelo C Louw. 28/01/2009 The Witness, South Africa.


Pietermaritzburg - A Hayfields man's carefree drive reached a dead-end on Tuesday when traffic officials discovered that his car was fitted with a laser jamming device that prevents speed cameras from recording how fast he is driving.

Not only did the Msunduzi Municipality traffic authorities arrest him, but they also impounded his black Audi TT Coupé. The man claims he was unaware that the device was fitted to the car.

"The fact is that he was in control of the vehicle at that time, so he is accountable for that vehicle whether or not he knew about the device. That is a matter for the courts," said Senior Superintendent Kwenza Khumalo, who confirmed that the car was registered under the arrested man's name.

The driver was pulled over on Hesketh Drive in Hayfields after the Pro-laser 3 machine used by traffic officials to "trap" speedsters was disabled when he drove past.

"We questioned him and on inspection, we found the device."

Khumalo said that according to records, the man has no speeding-related offences to his name. He was taken to Alexandra police station and released on bail.

In August, The Witness reported that a 65-year-old farmer was arrested on Reggie Radebe (Richmond) Road when traffic officials discovered that her vehicle was fitted with a Shift 3 Speed Laser jamming device made in Canada.

Khumalo said that the prevalence of such devices is "quite high" and that a notice has been sent out to all officials to be on the lookout.

Police chief Bob Atkinson's car caught for speeding
Anna Caldwell. January 26, 2009 11:00pm
A CAR carrying Police Commissioner Bob Atkinson has been caught speeding more than 10km/h over the limit on its way to an Australia Day function in Brisbane.
Atkinson was the passenger in his work car when the police officer driving was caught 12km/h over the speed limit on Brisbane's Inner City Bypass just after 7am.
The Commissioner admitted it was an embarrassing blow.
He has been a vocal anti-speeding campaigner and even urged passengers to keep an eye on the speedo to keep their drivers below the limit.
The offence came just three hours before Mr Atkinson was to hold a road safety conference to warn motorists against speeding.
At the conference the Commissioner freely admitted his driver had been caught doing 72km/h in a 60km/h zone.
He said both he and his driver, a serving officer for 16 years, were embarrassed.
"We apologise," Mr Atkinson said.
It was only in January last year that the Commissioner said passengers also had a responsibility to curb a driver's speeding.
"The public can help us in two ways. We have to look at how we drive, being responsible, sticking to the speed limit," he said at the time.
"We can also influence others as a passenger, as a parent or as a friend."
However Mr Atkinson said yesterday he came unstuck because he had his "head in papers" and wasn't paying attention to the road.
He said he was in no hurry to get to his destination, an Australia Day function at Toombul Bowls Club, and there was no excuse.
"We left Police Headquarters at 7am to be there by 8am, so that we had plenty of time," Mr Atkinson said.
When they were stopped on the Hale St stretch of the Inner City Bypass his driver believed they were in an 80km/h zone.
"This is no excuse and we are not putting it forward as an excuse," he said.
Mr Atkinson said his driver accepted blame for the incident and he said he felt sorry for him.
He added that the police officer issuing the ticket was also embarrassed.
"Everyone was embarrassed but I thanked the officer (giving the ticket) for doing his job," he said.
"This shows that no one gets off the hook and neither should they."
Mr Atkinson's admission came as he and Police Minister Judy Spence warned motorists of a police crackdown in 40km/h zones when school resumes today.
"We are expecting 720,000 students to return to school, and 55,000 of those will go to school for the first time," Ms Spence said.
Police would conduct a statewide operation to crack down on speeding, illegal parking and seat belt offences.
"There will be a great police presence to stop the small number of people who aren't doing the right thing," she said.
Mr Atkinson said that after the long summer school holiday it was very important to refresh people's memories regarding the road rules.
Study shows speed is not the absolute pariah
Peter McKay | Wheels MAGAZINE December 30, 2008
US Department of Transportation study finds only five percent of crashes are caused by excessive speed.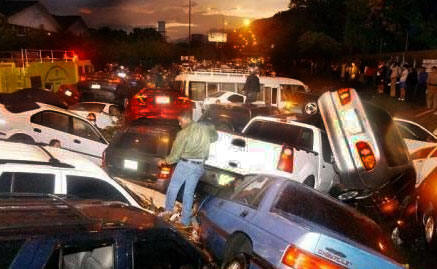 Speed enforcement continues to be the prime focus of road safety policy and policing across Australia – raking in tens of millions of dollars in revenue annually – and yet the most comprehensive examination of crash causation in the United States for three decades suggests this focus on speed may be misplaced.

Like Australia, lawmakers in the US have regarded speed as the greatest cause of death and injury on the nation's roads.

But the US government's own National Highway Traffic Safety Administration (NHTSA) study has now concluded that excessive speed is a factor in only five per cent of crashes.

In Australia, so-called road safety experts, opportunistic state politicians and those who live off the road safety industry have often ignored the threat of other factors including inattention, poor driving skills and fatigue to concentrate on an enforcement regimen based on widespread deployment of speed cameras.

Australian states differ widely on to what extent speed figures in the road toll, although most place it as the major factor. Bizarrely, in NSW, the Roads and Traffic Authority has used several different percentages, and these that differ from those announced by a succession of Roads ministers.

It appears they make it up as they go. Certainly there have been no broad and credible studies of crash causes by qualified Australian crash investigators. Most stats used are those based on crash reports filed by police.

The NHTSA investigated 5471 injury crashes that took place across the US between July 3, 2005 and December 31, 2007.

Unlike previous studies automatically generated from computerised data found in police reports, researchers in this study were sent to crash sites before the wrecks were cleared. At the crash scene they could compare the physical evidence with one-on-one interviews with witnesses and others involved in the incident.

The NHTSA then evaluated the data to determine the factors most responsible for the crash.

There was a systematic evaluation of all the potential problems related to errors attributable to the driver, the condition of the vehicle(s) involved, failure of vehicle systems, weather conditions, and road design.

"The critical pre-crash event refers to the action or the event that puts a vehicle on the
course that makes the collision unavoidable, given reasonable driving skills and vehicle handling of the driver," the report said.

Vehicles "travelling too fast for conditions" accounted for only five per cent of the critical pre-crash events.

The NHTSA found that more significant factors were driving off the edge of a road (22 per cent) and drifting over the centre dividing line (16 per cent).

In cases of driver mistakes, distraction and not paying attention to the road accounted for a significant 41 per cent of the errors.

Ten per cent of errors were attributed to drivers lacking proper driving skills
and either freezing up or overreacting at the wheel.

Eight per cent were asleep, having a heart attack or otherwise incapacitated. A similar
eight per cent of errors were attributed to driving too fast for conditions and five per cent driving too fast for a corner.

The findings are not far removed from studies in the United Kingdom and other US crash statistics provided by the Virginia Department of Motor Vehicles.

Driver or rider error or reaction were issues in four of the six most frequently reported contributory factors involved, according to the Road Casualties Great Britain 2007 report. "For fatal accidents (sic) the most frequently reported contributory factor was loss of control, which was involved in 35 per cent of fatal accidents (sic)." (At Wheels, we call them crashes. There's no such thing as a road accident).

In the US state of Virginia, "speed too fast" was nominated as the driver error that caused just 2.9 percent of crashes in 2007. More crashes - 3.8 per cent - were caused in Virginia by drivers falling asleep or becoming ill behind the wheel. Another 14.6 per cent were caused by bad weather such as fog, rain and snow. "Speed too fast" was a more significant factor (13.7 per cent) in fatal road crashes but nevertheless still not as high as the 18 per cent of fatal shunts involving alcohol. Sleepiness and fatigue accounted for 9.6 per cent of the deaths.

Wheels isn't suggesting that exactly the same results might be produced by similar studies in Australia where climate, road conditions, age and type of vehicles, licensing standards, speed limits, and other factors, are different.

But we are saying that evidence is mounting against the simplistic, revenue-based road safety philosophies forced on us by cynical State government authorities who prioritise making money from motorists ahead of saving lives.